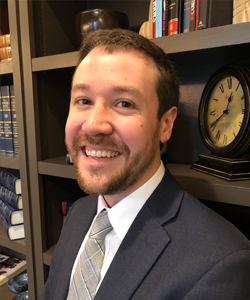 Alex Stewart is an alumnus of Western Kentucky University, located in his hometown of Bowling Green, Kentucky. He earned his Bachelor of Arts degree studying Philosophy and History, and he graduated magna cum laude from the WKU Honor's Program in 2013. He earned similar distinction at the University of Kentucky College of Law, from which he graduated magna cum laude in 2018. While in law school, Alex won awards in trial advocacy and appellate oral advocacy competitions and was a member of the Trial Advocacy Board. During the 2017-2018 school year, Alex obtained a student practice license and worked at the UK Legal Clinic providing pro bono legal services to indigent members of the community. For his work at the Clinic Alex received a CALI award, an award given to the top-performing student in each course. During his time at the University of Kentucky College of Law, he was awarded four additional CALI awards for classes including Constitutional Law I and II. Alex finished in the top of his class and was admitted to the Order of the Coif upon graduation.
Outside of the law, Alex enjoys hiking, camping, and spending quality time with his family and friends.
Alex serves Nash Marshall, PLLC as an associate attorney.
Reach Alex at astewart@nashmarshall.com